KARACHI: Stock market presented a picture of volatility all through the day with the KSE-100 index closing with a minor gain of 13.67 points (0.04 per cent) at 32,972.02, which remained at 39-month low.
Starting out on a desolate note, the index extended the earlier day's declines and nose-dived to intraday low by 353 points as the investors' worries over the interest rate hike. The State Bank's policy rate increase by 100 basis points, which carried it to 13.25pc, announced after the close of trading hours, was in line with market expectations.
Mutual funds were the major sellers of equity worth $5.89 million while liquidity was wiped off by individuals who bought stocks valued at $6.17m. Year-to-date, the major spoilers have been the mutual funds which have dumped stocks of the heavy sum of $134m.
After midday, rumours circulated in the market of a no change in interest rate, which brought in the bulls who recovered all the day's losses and tossed the index to intraday high by 135 points. Punters decided to seize the opportunity and take profit which reduced the day's gains to a mere trickle. The salient feature of the day was the major jump in volume.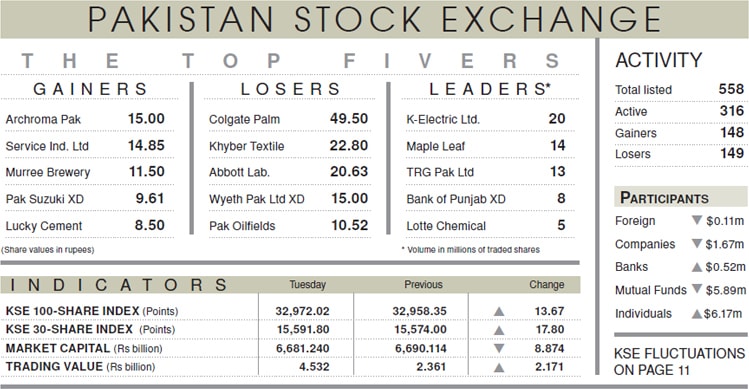 Sector-wise, cement, fertilisers and exploration and production played major role in setting the pace of market. Pakistan Oilfields and Petroleum traded near lower circuits. In cement, Maple Leaf, Pioneer and Lucky ended in the green while mixed sentiments were witnessed in the banking sector as MCB and United closed positive whereas National Bank ended in the red.
Among scrips, major addition to the index came from United Bank, higher by 24 points, Lucky Cement 24 points, Habib Bank 23 points, Engro Corporation 17 points and MCB 15 points. Stocks that contributed negatively included Pakistan Oilfields, lower by 29 points, Pakistan Petroleum 21 points, Bank Al Habib 11 points, Nishat Mills 10 points and Abbott Pakistan 9 points.